Perth Professional Data Recovery .
Same Day Hard Disk Drive
Assessment $67 Only.
Perth Computer Users – Have you just lost everything and need hard disk data recovery ?
We have been able to help with hard drive data recovery where…
Family Photos have Disappeared. ( Photo Recovery )
All financial Records been wiped. ( Myob , Quickbooks , … Data Recovery )
System Formatted Accidentally. ( Formatted hard driver recovery )
Turn on the computer and nothing loads. ( MBR Recovery )
Hard Drive Making strange noises (Clicking or scraping hard drives)
File System Corruption. (File system corruption recovery )
Computer Can't read the hard drive or very slow hard drive.
Outlook data corrupted. ( Outlook .pst file data recovery )
USB Flash Drive broken . ( USB drive recovery )
USB Flash drive data corrupted. ( USB Drive data Recovery )
RAID Data Recovery. ( Raid 0 Recovery , Raid 1 Recovery , Raid 5 Recovery , Raid 10 Recovery ).
Digital Camera Memory Card Data Recovery. ( SD Card Data Recovery )
Network Attached Storage Data Recovery. (NAS Data Recovery )
Emergency Data Recovery Service . ( Same Day Data Recovery )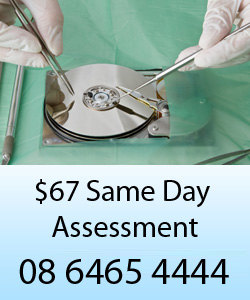 ---
For $67 we can assess your hard drive
(often on the same day as your call) and give you an estimate of the cost and complication involved to retrieve your valuable data from a crashed or wiped hard drive.
CALL US ON 08 6465 4444 or 0411 357 645
FOR YOUR $67 ASSESSMENT
__________________________________________________________________________________________________
Hard disk drive (HDD) data recoveryrequests occur more often that you may realise. Failures and loss of data can occur for a multitude of reasons including:
Hard disk media failure
Formatting or overwriting hard drive
Corrupt or missing critical file system structures
Accidental or intentional file deletion
Virus or worm infection
Bootup Problems
Operating System Crash
Partition table errors
Damage due to power surges
Perth Computer Repairs (Century IT Consultants) works to recover your data from hard disks using the very best tools and offers a same day or next day assessment. We have a very high success rate in recovering data from all sorts of scenarios.
Please note if you try data recovery yourself with improper tools and experience it can make the data recover process more difficult and ultimately more costly.
---
CALL US ON 08 6465 4444 or 0411 357 645 FOR YOUR $67 ASSESSMENT NOW
---
WHAT OUR CLIENTS SAY
A computer crash is one of the five big disasters that can wipe out a small business
Name: Robyn M , Area: Health Care
Testimonial:
The Small Business Development Corporation list computer crashes as one of the five big disasters that can wipe out a small business (SBDC 2011). A computer crash almost wiped out my small business on April Fool's Day 2011 and I needed a professional and prompt data recovery for my hard drive rescue. Thankfully, Daniel from CITC was able to restore my information after my regular IT person could not. (It pays to get a second opinion!) , Daniel's tenacious and meticulous search for my work data proved successful. His immediacy and positive nature helped me through a very trying period. He also gave tips to stop crashes from occurring again (sort of a computer 'air bag'!). Support like his cannot be underestimated in small businesses that are computer dependent these days.
Thank you, Daniel.
External hard drive data recovery ( Formatted hard data recovery )
After getting my computer back from a shop to replace a fried Solid State Drive I was shocked to discover that my back up hard drive that I use for storing all my files, documents photos and movies on had somehow been "accidentally" reformatted by the computer store. Aside from feeling perplexed…No problem I thought and dragged all my files from my Portable Hard Drive back onto the drive, only to discover that the copy of the data on the Portable was 6 months old! This was bad. Most of the files were the same but six months of photos and six months of a book I have been writing were GONE! To make matters worse I then mistakenly reformatted the drive!!! I thought everything was lost. I phoned Daniel in a fit of Depression and Anger hoping somehow he would be able recover the data. To my relief and surprise not only did Daniel recover ALL my required files, but he recovered things on the hard drive that had been deleted years previously! Daniel really knows his stuff. To recover data from a drive that had been formatted twice and had files rewritten to it… I held out grim hope of ever getting anything back. But to get it all back and more was a fantastic outcome. The service was excellent and fee very reasonable. You can't really put a price on your memories. If you somehow lose your data or experience the comedy of errors that I did don't panic give Daniel a call.
Hope it's not too long.
Arun Fischer - Senior Project Officer
Data Quality Team , Client Systems
External hard drive data recovery ( Photo data recovery )
CITC Perth Data Recovery delivered an amazing result when they fixed my crashed external hard drive with eight years of family photos on it at a very reasonable price. Not only did Daniel deliver the fixed crashed hard drive personally but also a newer, better quality hard drive with a mirror image for safety. They gave me great tips for data safety , which any new time photographer need to know about storing large files.
Thanks , Kristen
Flash Drive data recovery ( USB Drive data recovery )
Daniel came to my rescue over the weekend when I broke my USB and lost all my videos for an upcoming presentation . He was professional and extremely helpful , a life saver.
Not sure what I would have done without his aid. Highly recommend CITC professional Data Recovery in Perth.
Bernadette Dornom
Computer Crash – Data Recovered
CITC was prompt and thorough and was able to recover a large portion of data that I lost due to a recent computer crash. I would recommend them to anyone needing professional data recovery in Perth.
Regards
Sarah D. Tuart Hill
Backup Solutions - Avoid the nightmare of losing critical business data.
We can help you set up our back up solutions
Regular onsite daily backups
Offsite back up solutions
Onsite backup is great for protection against data corruption, hard drive failures, and other local events, however we often see clients whos laptop and backup drives have been stolen from their house or business and more rarely we have clients business where fire has destroyed all data. That's why we also recommend offsite backup solutions for business data and family photos.
The best way to ensure you have optimal protection is to ensure back-up becomes a routine schedule.

The consequences of ignoring this important task are devastating!

Each customer's data is irreplaceable and essentially needs to be protected.
CITC focuses on providing solutions that help small businesses protect their data without investing a lot of time and energy. For protection or complete recovery of data customers turn to the CITC experts.
Ask us how to ensure one of your greatest assets is fully protected. That's what we do best.
We also offer Automated Online Back-up solutions such as installation of programs, and working on a schedule to select file and folders to be backed-up and the optimal frequency, which can be then programmed on an automatic and regular basis.
CITC has a range of Automated Online Back-up Solutions
Install client program
Select the files and folders to be backed-up
Schedule the frequency of back-up
Computer automatically backs up according to schedule
What to do if you are not backing up.
Call CITC Perth Computer
Backup Specialists on 08 6465 4444